Why the HP+™ Wall System builds You a better home
Why the HP+™ Wall System builds You a better home
5 October, 2023
Launched in 2015, BASF's HP+™ Wall System is truly a unique feature. Found in all of the homes we build, this innovative layered wall system provides improved structural integrity, superior air tightness and thermal efficiency. All the ways that provide increased comfort throughout your new home.
Let's see what's behind the walls …
WALLTITE® – a spray foam insulation and air/vapour barrier material
Neopor® – a graphite-enhanced rigid thermal foam insulation
MasterSeal® NP1TM – polyurethane sealant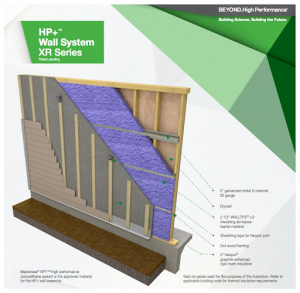 Here's what BASF had to say on their website; "Beyond the durability that the HP+™ Wall Systems provide, it also controls heat, air and moisture allowing homeowners to enjoy the benefits of improved indoor air quality and lower energy use."
As one of the only homebuilders in Windsor, Essex and Ontario constructing homes to this high efficiency and safety standard, we continue to strive for excellence in all we do. BASF's HP+™ Wall System provides durable structural resistance so that Homes by Bungalow meet and exceed building codes. So, you can rest assured that while building your home, we are using superior building methods than traditionally seen or used in residential construction today.
For more information on our building methods and practices or to find out more about the communities we are building, feel free to contact us or one of our dedicated Sales Representatives today!
Our Communities
FAIRVIEW GARDENS – Essex, ON – Jerry Valentik, Remo Valente Real Estate
HAMPTONS {Phase III} – LaSalle, ON – Joe Fallea, ReMax
SOHO Condos – Windsor, ON – Paul Renaud & Dave Pedler, Bob Pedler Real Estate Limited